What You Can Expect
Your patient journey: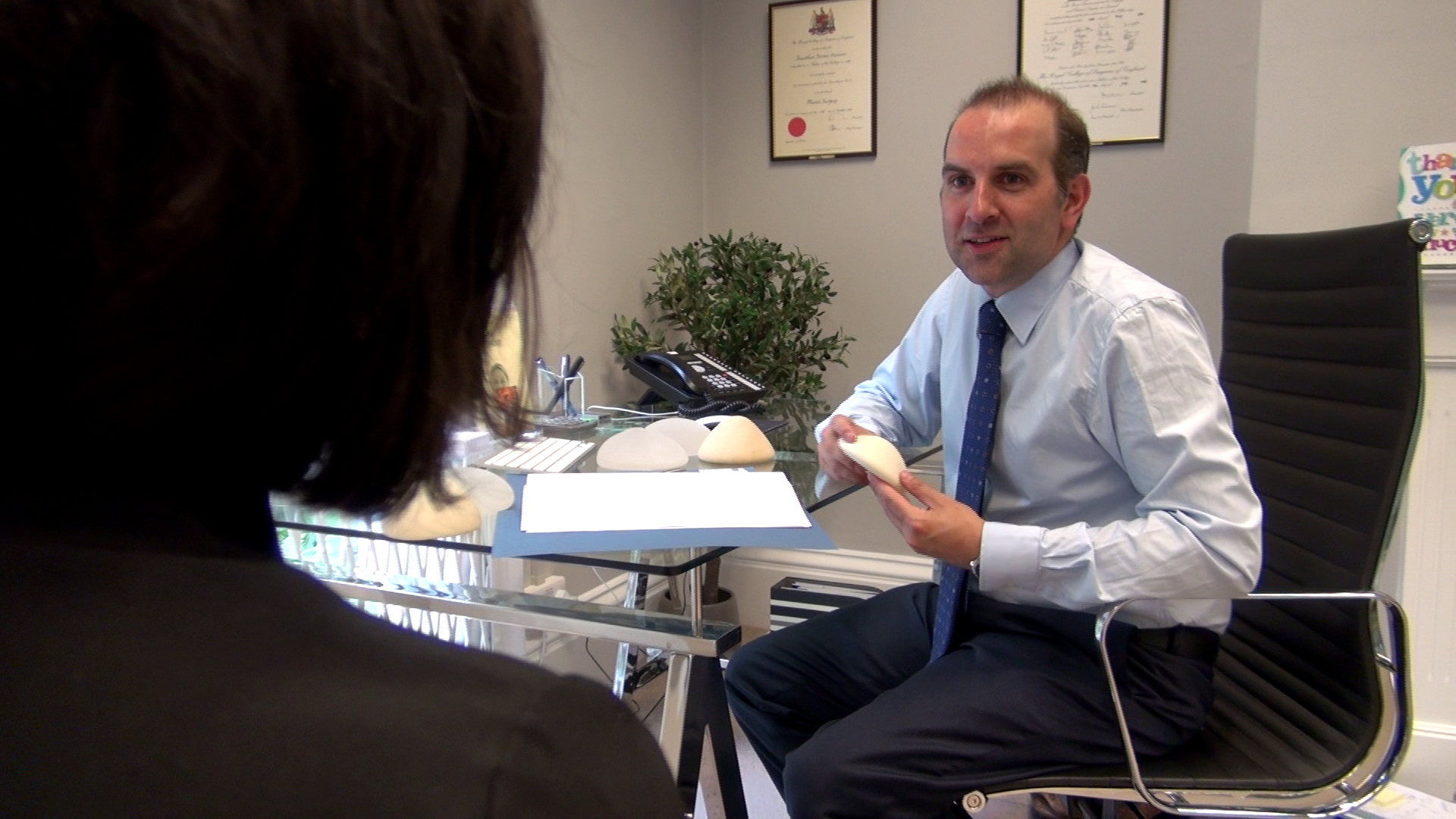 Your Consultation
Step 1: Initial consultation
From day one, your entire patient journey is led by your Consultant.. In this initial consultation you can talk over your hopes and fears, the procedure itself, funding, our free aftercare and you can also look at your surgeon's portfolio in more detail.
During your initial consultation, your surgeon will take detailed notes about what you want to change about your breasts and why. You can talk over the kinds of procedures that will be best for you and outcomes you want to achieve. Your surgeon will take a full medical history and complete a routine examination to ensure you are fit enough for the procedure. He/she will go through the options with you and will illustrate with some typical before and after photographs of recent cases. There will be ample opportunity for you to ask questions as many questions as you like. We prefer it if you bring a family member with you for moral support and to help with any questions that you may have forgotten. We recommend you bring a list of questions because it can be easy to forget things and you may consider your question trivial, but if written down, you are more likely to ask it. There is never any pressure to proceed with surgery and we advise a second consultation routinely, just to go over things and to be sure that you are ready for surgery.
Step 2: Cooling off period
Take your time to think about your options.
We advise all of your prospective patients take time after the first consultation to think about it. We recommend at least a week! Breast plastic surgery procedures should not be taken lightly as they are medical procedures which will always be associated with risk. Staiano Plastic Surgery does not approve of pressure selling and encouraging prospective patients to make big decisions without having time think about it properly. We advise you to talk it over with family and friends and if you still have questions we recommend a second consultation. There is no charge for follow up consultations.
Step 3: Pre-op screening
Full and final check that you are fit and healthy for the procedure.
Prior to your surgery, we will go through your previous medical and surgical history and let you know if you need to alter or stop any of your current medications. One of our experienced preadmission nurses will organise any tests that you may need in good time so that the results will be available for your surgeon and anaesthetist on the day of surgery. If you have any questions that the preadmission nurse is unable to answer, then they will contact your surgeon and either the nurse or the surgeon will get back to you.
Step 4: Your procedure
Led by your surgeon and their team of professional nurses, you will have 24/7 hour care at one of our prestigious clinics.
You will be admitted on the day of your procedure to one of our prestigious private hospitals throughout the West Midlands. All of our hospitals are fully registered with the Care Quality Commission and offer the full spectrum of medical care including HDU (high dependency unit) facilities and 24 hour nursing and medical cover with a resident doctor on-site.
You will meet your surgeon again on the morning of surgery for another chat to go over things and to answer any questions. It is now that you will meet your anaesthetist. All of our anaesthetists hold, or have held, consultant posts in the NHS and work closely with our surgeons, to make sure that your surgery is smooth and comfortable. During your stay, you will be looked after by our dedicated nursing teams and all of your care will be overseen by your surgeon. You will be reviewed daily by your surgeon who will go through your discharge arrangements before you leave.
Step 5: Aftercare
We believe our after care package is unrivalled by any other practice. It has our central commitment of patient satisfaction at the heart of it.
What to expect after the procedure
Your first appointment following surgery will be after about a week. Your dressings will be removed and your wound checked. Sometimes you will need no further dressings and sometimes you will need a light dressing, but we aim to allow you to shower and to start to get back in to normal life at this stage. After this initial check up, your surgeon will normally see you at about 6 weeks following surgery and this visit will be to make sure that all of your wounds have healed satisfactorily. If there are any problems with your wound healing, you will have a direct line to us and also to the hospital, giving you 24 hour access to support. Your scars may initially be red and there may be some postoperative swelling and this normally takes 3 months before it starts to settle. Your next appointment will be at around 3 months postop. It can take 6, 12 or even 18 months for everything to finally settle and therefore your surgeon will see you as required in the following months and years to make sure that everything settles to your satisfaction. If you have any problems at any time, you can contact the clinic at any time. It doesn't matter if this is a week, a month or years after your initial operation – Staiano Plastic Surgery's commitment to patient satisfaction means that you will always be able to speak to your surgeon – free of charge – if you have a problem. We will always do everything that we can to make sure that you get the best outcome that you possibly can.
Fixed Price Packages
Most of the common procedures are covered by a fixed price package, which covers all of the hospital fees, the anaesthetist fee and the surgeon's fees. It also covers the treatment of any complications that may arise in the first 30 days following surgery. This means that you can be assured that you are fully covered in the unlikely event that you require any further surgery or require a prolonged hospital stay.
Complete Aftercare Package
Staiano Plastic Surgery is proud to offer the
Complete Aftercare Package
in partnership with the Hospitals where your procedure will be carried out. The hospitals cover you for revision surgery that may be required for up to 12 months following your procedure and gives you complete peace of mind that you will get the best result possible with no hidden costs. (Terms and Conditions are available on request).
Unlimited free follow ups
As part of Staiano Plastic Surgery's commitment to patient satisfaction and patient care, all of your follow ups from a procedure with one of our surgeons will be for free. We will not charge you for coming to see your surgeon about a problem or something that may have come up in relation to this procedure. This gives many of our patients genuine peace of mind before and after the procedure. This is part of our commitment to you to give you the peace of mind that Staiano Plastic Surgery will go the extra mile and do everything possible to make sure that you are completely happy with your result.