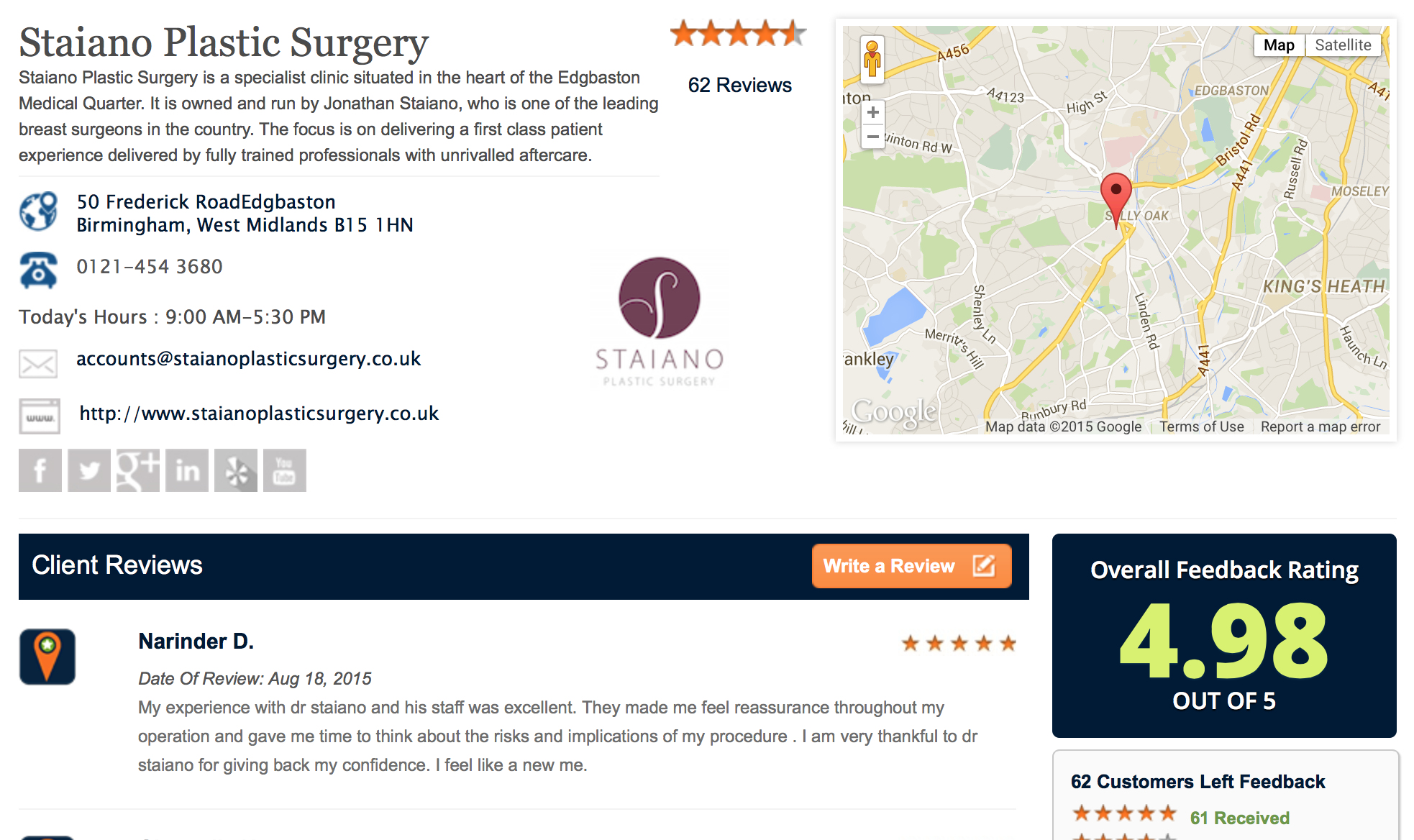 * Mr Staiano is extremely patient centred. There was no 'hard sell' tactics and he was more than supportive in facilitating my life changing decision. He offered to delay or even cancel surgery when I had a personal issue and he even offered counselling which I thought was a lovely gesture. I contacted Mr Staiano several times after my surgery with little queries and on each occasion he encouraged me to come in and see him to put my mind at rest. He was never rude or never appeared sick of seeing me. He was as warm and professional as before he had taken payment. Unlike some services that don't want to bother with you after they have been paid. The results are amazing. My breasts are symmetrical, my scars are neat, the shape looks more natural every day and they are the exact size I asked for. Fantastic treatment from start to end. It had been a pleasure. I had waited for this for several years, I finally plucked up the courage to have it done and the results are phenomenal.
* I can never express my gratitude for the results of my surgery by Mr Staiano to correct a previous bad result by another surgeon. I have my life and confidence back. Mr Staiano was very informative about everything and I was made to feel that there was no hurry and that I could take as long as I needed to ask any questions. So patient with me and nothing was too much trouble. Mr Staiano has achieved an amazing result for me. I have been so unhappy for the five years since my original surgery and I appreciate how difficult it must be to achieve a good result when correcting previous poor surgery. He's amazing. A huge thank you.
* Right from booking my first consultation with Jonathan Staiano, the care and service, from both Jonathan and all of his team at the clinic has been excellent. Jonathan is an amazing surgeon who is passionate about his work and patient care. He is honest, professional, kind, has a great sense of humour and makes you feel totally at ease. He was so thorough and answered all of my questions and told me I could call, e-mail and go and see him as many times as I liked. I am now 9 weeks post surgery and I am absolutely delighted with my new boobs. They are everything I could have wished for and more. It's been so nice to wear bras and bikinis and feel really good in them. Something I haven't felt for a while. I can honestly say, at 41, I feel more happy and confident with my body than I ever have and I can't thank Jonathan enough.
* He has gone in the army now but I can write on his behalf. It tells a story where he is now because without the amazing results you gave him he would not be where he is now. The confidence you gave him goes without saying. How you made him feel from the very first moment he walked through your door was amazing at ease and most of all confident. I'd say your doing extremely well and excellent. Fantastic what you have done for him as a person talking from a mothers point of view. Thank god we found you and your fab team.
* The change is amazing. I love the results. The shape and the scarring have settled dramatically… I am extremely pleased.
* I would like to take this opportunity to thank you once again for the fantastic result I have had, it has made such a difference to my sense of wellbeing and confidence.
* What can I say but 'Thank You' for the excellent service you provided me. All I can say about my breast augmentation is 'wow'. They are perfect in every sense of the word and I couldn't be happier. Thank you for your advice as they do fit my frame perfectly. Again, thank you – got the fantastic result.
* Jonathan was amazing! He listened to why I wasn't happy with my current shape and size, and also about the type of look I was hoping to achieve. He took the time to talk me through all options available with patience and sufficient detail, whilst answering all questions I had. He even took the time to try on some sizers to enable me to gauge an idea of how the different sizes would look on me. I came away from the initial consultation feeling very satisfied and positive I could make a well informed decision. Jonathan wasn't pushy at all. He provided me with his contact details in case I had anymore questions after leaving the clinic. He also advised he'd be happy to see me for a chat again as many times as needed, free of charge. I was then left alone to make the decision for myself without being pressured into anything.
* Mr Staiano was the 3rd surgeon I met with, the first 2 were from the more well known big clinics. The reason he stood out for me was because I felt he really understood what I wanted to achieve and took time to explain why he thought a certain shape and size would fulfil my goals. Also there was no pressure at the consultation to book anything, he was very friendly and put me at ease. He was always easy to contact before and after the surgery and when I had worries or concerns offered to see me at the clinic.I have ended up with breasts that I love and better than I ever dreamed of so I'll certainly be returning to him when they need replacing. I'm so happy I went to Mr Staiano for my surgery, I can't imagine any other surgeon could have treated me better or given me better results.
* An excellent surgeon, who is caring and has time for the patient! From the first consultation he just made me feel like he really did care about how i felt and what mattered to me. One thing my GP told me to look out for in a surgeon was that they were honest, and he was. He went through all the complications that could happen, even though we don't like to think about them and he didn't give me a false hope! He showed me before and after pictures of some surgery that he has previously done and it helped us to talk about my expectations. I would highly recommend Mr Staiano.
* The whole experience with Staiano has been amazing! It's clear that the entire team work hard to provide an excellent service. Everyone is approachable and easy to speak with, and could not have asked for a better consultant than Jonathan – his knowledge, skills, professionalism and kind nature have made my journey an incredible one. Thank you all, please don't underestimate the impact you have on people's lives.