Tattoos are becoming increasingly common and mainstream. However, the increase in accessibility and the change in the public perception of tattoos has meant that it is also becoming more common for people to have a tattoo without possibly thinking of the long-term consequences of the fact that it is permanent. Tattoo removal can be difficult, painful and expensive but is increasing in demand. Excision of the tattoo could be considered for tattoos that have not responded well to laser tattoo removal.
Tattoo Excision On The Elbow
* This tattoo on the elbow has previously been treated with laser tattoo removal, which has faded it to a degree, but has not removed the colours, particularly the green. She had serial excision of the tattoo in 3 stages resulting in complete tattoo removal.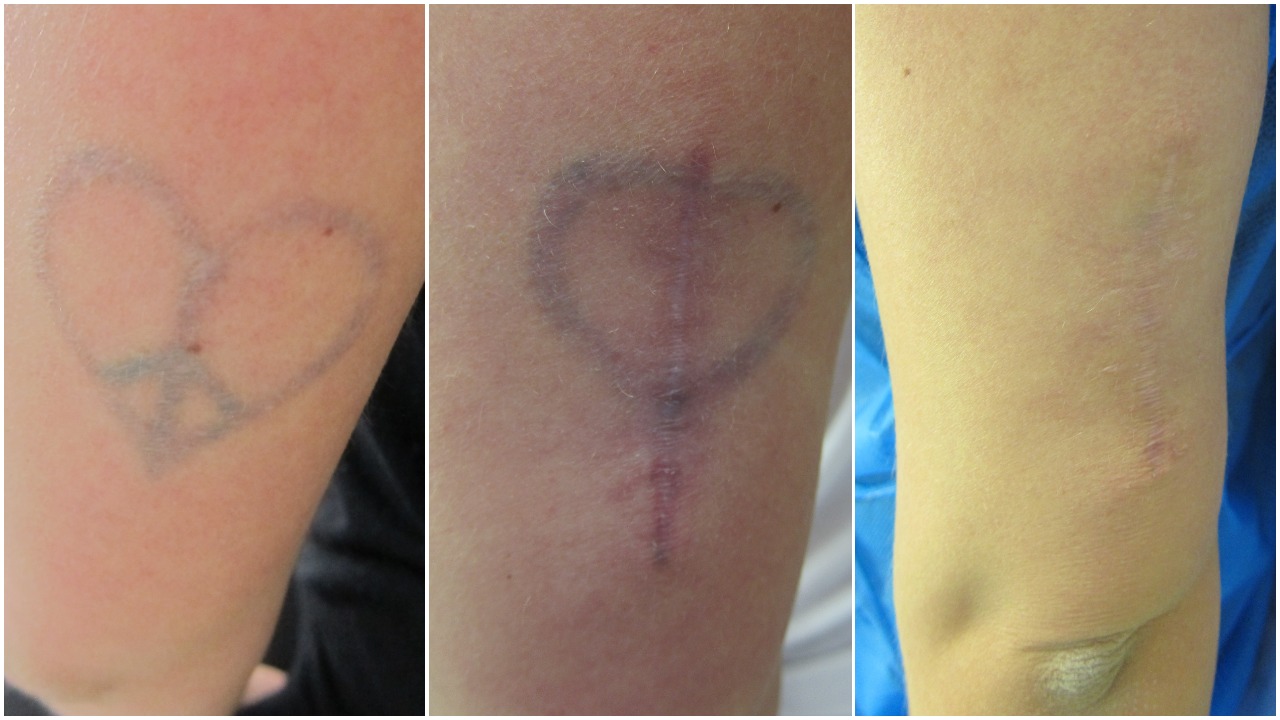 Tattoo Excision On The Back Of Arm
* This tattoo on the back of the arm, just above the elbow, had previously been treated unsuccessfully with laser. The patient had serial excision of the tattoo in 2 stages resulting in complete tattoo removal.
* Please note that results may vary from person to person
Whatever Your Reason For Tattoo Excision
We Can Help
Perhaps you have a tattoo to remind you of a relationship that is now over.
Maybe you had a tattoo that was edgy and rebellious when you were young, but now you have children of your own and it is an embarrassment.
Perhaps you have grown bored of your tattoo and it is no longer the badge to be proud of that it once was.
Or maybe you have a tattoo in a prominent place, like your hands, arms or neck and you would now like to start a career or a family and you would like to be able to cover up or hide your tattoos if you wish.
DO YOU HAVE A LARGE TATTOO YOU WOULD LIKE REMOVED?
Excision of Large Tattoos May Need Serial Excision
There Are Several Options For Tattoo Removal
Laser Tattoo Removal

This is often the first option for many people. Laser can be very effective at removing the ink of tattoos, although the effectiveness varies when you have different colours in your tattoo. Laser tattoo removal usually needs to be repeated and can be painful and expensive. Sometimes, you may be left with a residual 'ghost' of your tattoo, which you can then cover up with another tattoo if you wish.

Cover Up Tattoo

You can cover up your tattoo with another tattoo. The E4 program 'Tattoo Fixers" showcases difficult cover up tattoos being performed by expert tattoo artists. The cover up tattoo will inevitably need to be bigger and darker than your original tattoo, although you can have laser treatment to fade your tattoo before going for a cover up. This option will only work if you are happy to still have a tattoo in the place of the original and if you are happy to have a larger tattoo.

Tattoo Excision

Tattoo excision is what we specialise in here at The Staiano Clinic. We have a fully equipped minor operating theatre on site and surgery is usually performed under a local anaesthetic on a walk in, walk out basis. Not all tattoos are suitable for surgical excision as it will depend on the size and location of the tattoo. Please contact us for more details and feel free to send a photograph of your tattoo for advice on whether it would be suitable for surgical excision.