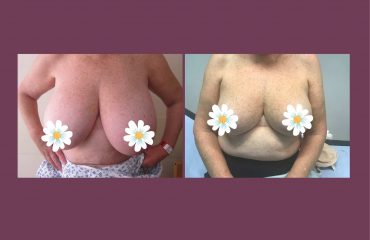 If you think that breast reduction costs a lot then it is important to put it into perspective.
Some patients put breast reduction into the category of cosmetic breast surgery and think of it in the same way as other operations like breast augmentation.
Any cosmetic surgery is a major undertaking both physically and psychologically because you are changing the way you look.
However when it comes to the extent of surgery, breast reduction can be a significantly bigger procedure than breast augmentation.
When taking in to account breast reduction cost, you have to realise what is involved.
Breast augmentation surgery takes about an hour in theatre whereas breast reduction takes three hours in theatre.
If you have ever seen the inside of an operating theatre (check out my video), you will see that there are 5 to 10 members of staff at all times all of whom have specific areas of training and expertise.
Not to mention what goes on in the background to keep a hospital running with all the administrative costs and overheads.
There is usually at least a one night stay in hospital and this will all be covered in the one-off cost that you pay.
I sometimes notice that my colleagues think that we as plastic surgeons get paid a lot because they see the headline rate that we receive when doing surgery.
However there is a big difference when working in the self-pay market compare to the insured market.
Whilst the cost of breast reduction is significant, it is a one off payment and all aftercare, outpatient visits and follow-up appointments are included in the price.
My colleagues who do insured work get paid for every intervention.

If they see you in the clinic, if they perform an x-ray or other tests, or if they have to perform any other procedures " they will be paid at every stage.
After performing a breast reduction, we will see you in the clinic on a regular basis to ensure that your wounds heal, your scars soften and the shape of your breasts settles.
We want to make sure that you are happy with everything.
Furthermore, we will continue to see you in the clinic if you ever have any problems or concerns at any time.
There may be some patients who need very little input from us but there are others for whom this will be invaluable.
It comes down to how much value you get from a procedure as to whether it is worth the cost.
Breast reduction can be life changing on several levels:
on a physical level by removing the weight from your chest, reducing back and neck strain and not having your bra straps digging in.
on a practical level by allowing you to shop on the High Street for bras and be able to wear the clothes that you want to wear.
and on a emotional level by feeling in proportion and more comfortable with your body and improving self esteem and self-confidence.
It is hard to put a price on this.
I understand that breast reduction cost is a major determinant when someone is choosing surgery but I don't think it should be the only one.
Here at The STAIANO Clinic, we are very aware that many other clinics offer the same procedures and we need to be competitive.
I have built the clinic so that we can compete on a worldwide scale when it comes to the qualifications of us as plastic surgeons, the level of care and treatment that we give and the time and space that we give you as an individual patient.
Not to mention the aftercare that we offer.
It is hard to do this and still be able to compete on price and so I realise that if you shop around, you will be able to find surgery cheaper elsewhere.
Whilst we can't always compete on price, I know that we can compete on quality.
If you want to find out more you can download our guide with some frequently asked questions here or call us on (0121) 454 3680
You can also read more by visiting our Breast Reduction page.
If you want to know what a breast reduction costs at The STAIANO Clinic, then click here and we will send you not only how much it costs but also what we offer for that cost.
As always feel free to comment and if you have any questions you can find me on Facebook with a live Q&A every Tuesday at 7 pm
https://www.staianoplasticsurgery.co.uk/wp-content/uploads/2020/11/cost.jpg
240
370
admin@staiano
https://www.staianoplasticsurgery.co.uk/wp-content/uploads/2021/07/logo.png
admin@staiano
2022-03-16 13:26:46
2022-08-12 14:25:33
Why does breast reduction cost so much?