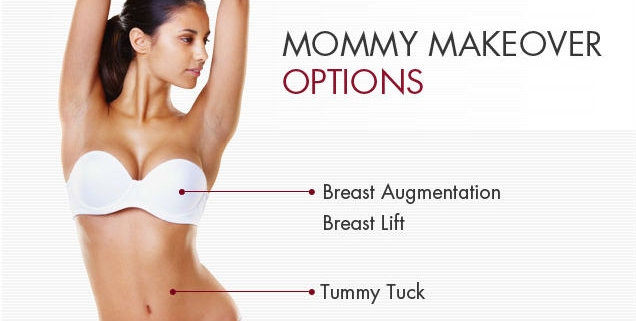 Mommy Makeover In Birmingham
The Mommy Makeover is a term popularised by our American colleagues (hence the 'o' in Mummy) and is used to describe plastic surgery operations of the breast and abdomen combined.
The abdominal operation would usually be a tummy tuck or a mini tummy tuck and the breast operation could be a breast lift, breast reduction, breast implants or breast lift with implants. It is so called because it is surgery that might be needed following pregnancy due to stretching and descent of tummy and the breast.
However, the Mommy Makeover is not limited to post-pregnancy women and may be required by anyone who has had significant weight loss, because this too will cause the tissues to stretch and descend causing a redundant apron of skin in the abdomen and droopy breasts that have lost volume.
A Mommy Makeover is a significant operation, that is something that we quite commonly perform here at The STAIANO Clinic. You would need a full and frank discussion with your Surgeon, in fact you would normally need more than one consultation to go over all the pros and cons of having a Mommy Makeover, rather than having a tummy tuck and breast surgery at different times. As is the case with most things in plastic surgery, there are no right or wrongs. It is a question of weighing up the benefits against the risks to see what would be right for you.
OPERATION TIME
Tummy tuck and breast reshaping operations done separately are relatively major undertakings, and so to combine them does make it into quite a big operation. Either operating time would be longer than either one separately, but it would be slightly less than the time taken for each combined. Much of the time during surgery is involved in setting up, prepping and draping and anaesthetic time, and so there will be economies in performing it all in one go. However, the length of time of anaesthetic for a Mommy Makeover is usually between 5 and 8 hours and so this can knock you back and you will need to factor in adequate time for recovery.
RECOVERY
Again, the recovery following Mommy Makeover is much less than the tummy tuck and breast shaping if performed separately because your abdomen would be healing at the same time as your breasts, so essentially there is only one recovery period which is not much longer than it would be if you were having a tummy tuck on its own. This means that the time off work following a Mommy Makeover would be much less than if you were to have two operations and it might be easier for your employer if you were to take just one period of sick leave.
COMPLICATONS
Tummy tuck and breast reshaping surgery are not without their complications and you must be aware of this before contemplating surgery. There will be several wounds to heal and so the risk of some wound healing problems is greater than each separately, but no more than them combined. In fact, if there is a minor wound healing problem in the tummy or the breast then they can both be healing at the same time and so while the rate of complications might not be less, if you do get a complication in both areas, it can be easier to deal with as complications usually involve things like minor wound breakdown requiring dressing. Clearly, if you had a major complication in both areas it would be difficult to cope with, but fortunately the scenario is rare. As I mentioned the anaesthetic is quite long for a Mommy Makeover, but from an anaesthetic point of view it is safer to have one slightly longer anaesthetic than two shorter ones. It is a bit like air travel where the danger times are take-off and landing, it does not matter that much how long you are flying for. Similarly, for a general anaesthetic, dangerous times are on induction and when waking up from an anaesthetic.
PSYCHOLOGICAL ASPECTS
The psychological aspects of cosmetic surgery should not be under-estimated and any time you are changing the shape of your body there will be an emotional element to deal with. It can be a rollercoaster because in the initial post-operative stages the tissues are swollen, the scars are fresh and it is not uncommon for one side to behave differently to the other giving asymmetry. Most of these things settle but can take many months to do so and so you need to work closely with your Surgeon for the support to get you through this period.
Breast reshaping or a tummy tuck can induce immense psychological and emotional changes usually very positive, but can be difficult to acclimatise to particularly in the early stages. You may struggle to cope physically or emotionally and it is always best to address these issues before surgery and here at The STAIANO Clinic we have dedicated Counsellors who can help to support you, as well as the office and nursing team who will be with you throughout your experience.
If you feel that a Mommy Makeover is too much to take on then do not worry, it is very common to have the procedures in two stages, and to simply deal with the area of most concern in the first instance and recover and then consider having the other area done. This can be months or even years later depending on how you feel.
COST
There is a cost saving to having a Mommy Makeover compared to having the operations separately. It may not be as dramatic as you might think. The time spent in the operating theatre is very expensive and so the fact that the operating time is slightly reduced does have a bearing on the final cost. However, there is often not a dramatic difference in hospital stay as the tummy tuck usually has a 2 night hospital stay and breast reshaping a 1 night hospital stay, whereas a Mommy Makeover would be a 3 night hospital stay on average. And so, whilst there is a reduction in the overall cost this will probably not be the sole reason for choosing a Mommy Makeover. The other thing to consider is that payment is all required up front, whereas if you were to stage the procedures you would have time in between to prepare for the cost, although the hospital's do provide 12 month interest free credit to help you spread the payments for any cosmetic procedure.
In summary…
I think it comes down to the individual as to whether you think a Mommy Makeover might be right for you. If you want one period of recovery and feel mentally and physically prepared for the changes that will take place, then there are definite benefits in having one period off work and one period of recovery and healing. However, if you are unsure or have one overwhelming area that you would like addressed then it might be worth having this addressed first and seeing how that heals and how you recover from it before considering having the other area dealt with.
If you want more information then please visit our pages on:
Or, if you have any questions, then Jonathan is on Facebook Live every Tuesday night at 7 pm. Or you can email the Clinic or give us a call on 0121-454 3680 with any questions, we would love to hear from you.
https://www.staianoplasticsurgery.co.uk/wp-content/uploads/2021/12/Mommy-Makeover-Options.jpg
364
636
admin@staiano
https://www.staianoplasticsurgery.co.uk/wp-content/uploads/2021/07/logo.png
admin@staiano
2017-09-19 11:14:43
2022-02-22 11:41:45
Mommy Makeover, 1 Op or 2?