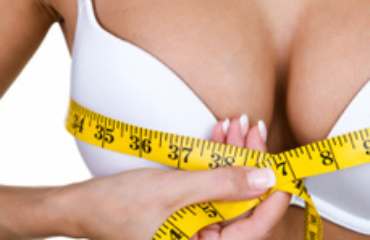 There are many cosmetic clinics which offer breast implants but not all will treat patients with more complicated problems.
Patients with breast asymmetry will often present for surgery.
The first question we would ask is:
Are you happy with either of your breasts or do you want them both changed?
If we can just operate on one side then this will lower the risk of complications and be beneficial for all.
It may not always be possible to just operate on one side, particularly if one breast is sitting lower than the other one with uneven heights of the nipples.
It is possible to lift the nipple, but it is not possible to lower a nipple (at least not without leaving a scar where the nipple was). So we can raise the low one, but is extremely difficult to lower the high one.
The next question to ask is:
Is there a problem with the shape, the volume or both?
In general terms, problems with the shape involve a breast lift and problems with the volume involve breast implants or breast reduction, (depending whether you want them bigger or smaller).
Surgery for breast asymmetry usually involves a combination of breast implants, breast lift and sometimes breast reduction.
Different things need to be done to each breast and so there is always a risk that they will settle differently and you may have to accept some degree of asymmetry.
Everybody is born with a degree of asymmetry and this is quite natural.
What we aim to do with surgery for breast asymmetry is to bring your breasts and your frame back into balance and make it easier for you to wear clothes and bras without needing to use a chicken fillet or external prosthesis in one side.
If you have different size breasts with one sitting lower than the other (usually the bigger one), you could have them made the same size by using different size implants.
The implants come in set volumes and so we would be unlikely to make them identical and would usually need to use a sizer in theatre to work out the best match.
The implants would not do anything about the shape of your breasts and so one would still be sitting lower than the other.
This would probably not be an issue when wearing clothes but may be an issue out of clothes.
In order to correct this you would need a lift of the breast that was sitting lower, which is usually the bigger one and so it would also be possible to perform a reduction at the same time as the lift to balance out the volume.
Then we could use the same size implant in each side.
This is something that we could discuss in the clinic and there is no right or wrong answer.
Some patients would prefer not to have breast tissue removed and then replaced with an implant and would prefer different sized implants.
Others would rather have a reduction to match the size and the same size implants so as you age or undergo weight fluctuations, it is more likely to have a symmetrical change in your breasts.
Treatment of breast asymmetry is complicated and requires a bespoke approach and a partnership between the surgeon and the patient so that a plan can be made that can produce a realistic expectation with acceptable risks and an acknowledgement of the limitations of what we can do.
If you have a breast asymmetry and have any specific questions then I do a live Q&A every Tuesday at 7pm on Facebook and I would be happy to give my opinion.
If you want to come to the clinic for a consultation then you can contact us here or phone (0121) 454 3680. We would love to see you.
You can download my breast implant guide here.
You can download my breast reduction and breast lift guides.
https://www.staianoplasticsurgery.co.uk/wp-content/uploads/2020/10/asymmetry.png
240
370
admin@staiano
https://www.staianoplasticsurgery.co.uk/wp-content/uploads/2021/07/logo.png
admin@staiano
2022-05-24 12:05:15
2023-05-22 10:23:28
How to treat Breast Asymmetry