How to reduce enlarged earring holes
There is very much a fashion for gauging (stretching) or tribal piercing, which involves having your ear pierced and then having the hole gradually increased in diameter so that you can put bigger and bigger earrings in.
The problem with the fashion is that as you increase the diameter of your earring hole there is only one way you can go.
You can either choose to keep it at the same diameter or increase the diameter.
If you decided that you no longer liked the look of it or if you need to get a job or start a career where having an enlarged earring hole is not welcome, then you might start to regret things.
If you start to put progressively smaller earrings in, they will just start to fall out and the skin of your ear lobe will not shrink back.
But don't panic,
because it is relatively simple to fix the problem.
Earlobe Repair is something we can do here in the clinic under a local anaesthetic on a walk-in, walk-out basis, and in fact, we can see and treat you on the same day as your consultation in our fully equipped minor operating suite that we have here on site.
The procedure takes about 45 minutes and can transform the look of any ear lobe no matter how large the enlarged earring hole has been stretched to.
It will leave a scar which will be slightly red to start with, but this tends to fade quite nicely and so the hope is that it will be difficult to see in the future.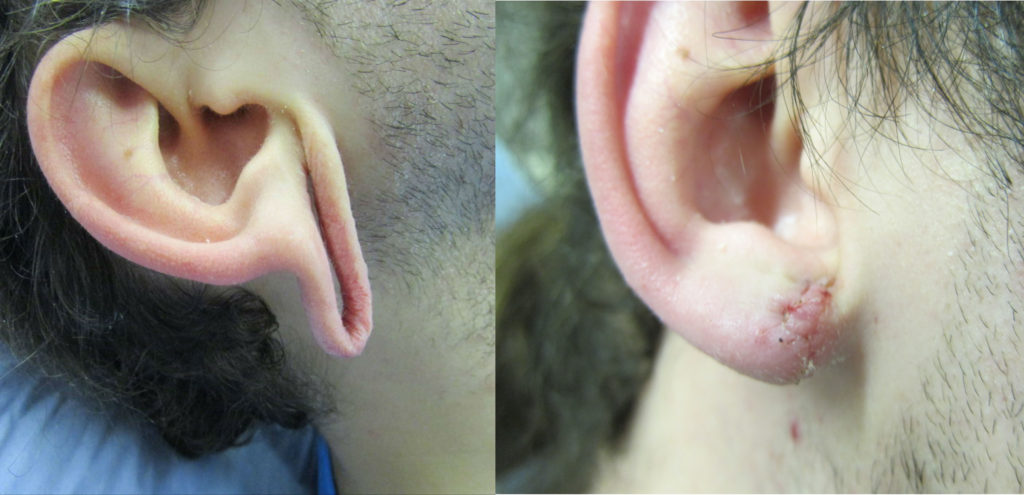 If you wanted to go and get your ear re-pierced then this is perfectly possible, although we advise that you pierce it slightly off the scar because the scar will be weaker than the normal ear lobe skin.
For more details or to book a free consultation please contact us by phone or e-mail and we would like to see if we can help you.
Ear lobe reduction for enlarged earring holes is one of the specialties here at the clinic
and it can be quite transformational the difference that can be made in just a short and relatively simply operation.
So drop us a line and we would be more than happy to see if we can help.
And you can read more about Earlobe Repair here
https://www.staianoplasticsurgery.co.uk/wp-content/uploads/2022/01/how-to-reduce-enlarge-earring-roles.jpg
450
900
admin@staiano
https://www.staianoplasticsurgery.co.uk/wp-content/uploads/2021/07/logo.png
admin@staiano
2018-01-23 08:42:31
2022-06-23 13:34:45
How To Reduce Enlarged Earring Holes