What Type Of Bra Do I Need Following My Surgery?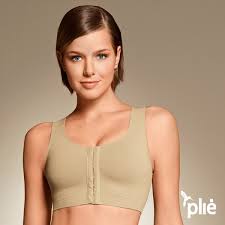 There are several things to consider when choosing a post-surgical bra.  You will need a supportive bra that is comfortable and fits snugly.  It should not be too tight because, although the bra is necessary to control swelling, it will be counterproductive if it digs in and causes discomfort.  It is important that your bra is not wired and so a sports bra or dedicated post-surgery bra would be best. 
Post-surgical bras often come in sizes small, medium, large and extra large, rather than the traditional 32, 34, A, B, C, etc. because they have a degree of flexibility or 'give' in the material.  They also often have some degree of adjustment, which is usually in the form of two or three rows of eyes for the hooks to hook in to.    You should make sure that the bra opens either at the back or the front because a lot of sports bras need to be put on over your head and this may be uncomfortable in the days following surgery.  Front fastening is best but can be more difficult to find.
What Size Bra Should I Buy?
Your back size should not change following surgery, although the cup size will be affected.  It is important to be aware that your bra size might vary in the weeks and months following surgery and so you should be prepared to alter or adjust your bra during this time. For patients having a breast enlargement " it is always difficult to predict the cup size you are likely to be. 
I recommend that you buy a selection of bras around the size that you hope to achieve and keep the receipts and the labels on them so that you can return them later if they are obviously unsuitable. For patients having a breast reduction " many patients seeking breast reduction are wearing the wrong size bra and so I recommend that you get a professionally fitted bra before considering surgery. 
It may be that a well-fitting bra will alleviate many of the symptoms that you are suffering from.  When choosing a post-surgical bra, it may be worthwhile choosing a bra with the next size up on the band size that you currently are " this will allow for swelling.  The cup size is very difficult to predict and so a range of sizes may be needed.  I can give you guidance on this. For patients having a breast lift " the breast should be around the same size that it was before surgery.  Clearly the shape will be different, with the volume sitting higher on your chest and a small amount of volume will be removed with the skin that is taken away, but you will be in a broadly similar cup size to what you were before.
Do I Need To Buy A Bra Before My Surgery?
For patients having a breast enlargement " I will provide you with a postsurgical bra immediately following your surgery and you should wear this day and night for the first 4-6 weeks following surgery.  I will give you an idea of the size of bra you will need should you wish to purchase one.
For patients having a breast reduction or breast lift " you will have dressings on your breasts immediately following surgery which will act like a bra and so you will not need to worry about a post-surgical bra to start off with.   The dressings will be removed after a week and you will need to bring your post-surgical bra with you to the dressing clinic appointment.
What Bra Do You Recommend?
If you can find a bra that you are comfortable in and feels supportive, then you are half way there.  Try to avoid a bra with a wire and ideally get one with a wide band that is less likely to dig in.  I mainly use bras manufactured by Plie as they offer good support, have useful adjustability and are front fastening.    The grid below shows the sizes available and for patients larger than XL, I use Macom bras which go up to size 40HH.
Sizing Chart for Plie Bras
| | | | | | |
| --- | --- | --- | --- | --- | --- |
|   | A | B | C | D | DD |
| 30 | Small | Small | Small | Medium | Medium |
| 32 | Small | Small | Medium | Medium | Large |
| 34 | Medium | Medium | Medium | Large | Large |
| 36 | Large | Large | Large | Large | X Large |
| 38 | X Large | X Large | X Large | X Large | X Large |
Macom Bra Sizing
XL  38- HH
XXL  40 " HH
You can purchase post-surgical bras here or by calling the clinic on 0121-454 3680.
The cost of the bras are £35 each (delivery is free).
https://www.staianoplasticsurgery.co.uk/wp-content/uploads/2022/01/what-is-the-best-post-surgical-bra.jpg
450
900
admin@staiano
https://www.staianoplasticsurgery.co.uk/wp-content/uploads/2021/07/logo.png
admin@staiano
2014-03-14 15:49:08
2022-02-23 16:00:34
What is the Best Post-Surgical Bra?