When it comes to gynaecomastia surgery cost, we do have a price range
I am very keen that we are transparent with our fees here at the STAIANO Clinic and I do not want patients to feel like there will be lots of add-ons or hidden costs.
For that reason we only ever charge for the initial consultation and make it clear that we will never charge for a follow up consultation whether it is before or after the surgery.
Gynaecomastia Surgery Cost
When it comes to the cost of gynaecomastia surgery, we do quote a 'from' price and I know that this makes some people suspicious, but the vast majority of patients will be paying the baseline price.
REQUEST A PRICE FOR GYNAECOMASTIA CORRECTION
The reason we have a 'from' price is because the more severe cases of gynaecomastia may be more expensive.
The treatment of gynaecomastia is aimed at targeting the three areas that can be affected:
Fatty tissue.
Glandular (breast) tissue.
The skin.
Each of these areas are targeted separately.
1. Fatty tissue
The fatty tissue can be targeted with liposuction and this allows the contour of the chest to be improved through very small stab incisions as seen in the example below: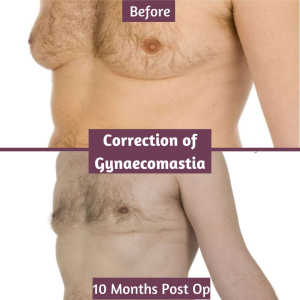 2. Glandular tissue
In most cases there is some dense glandular tissue just behind the nipple which is not removed through liposuction and so a small incision is required on the edge of the areolae to remove this dense tissue.
The vast majority of cases of gynaecomastia can be treated through a combination of liposuction and excision and this is the price that we quote when people enquire.
The patient below is shown 6 months after having liposuction and excision of gynaecomastia: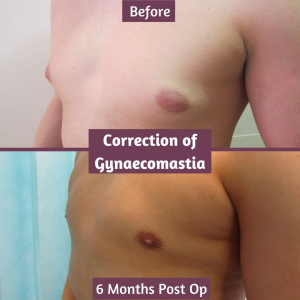 3. The Skin
The reason there is a 'from' price is because some cases require skin excision and this is a much more involved (and expensive) undertaking.
If there is only mild excess, then by removing the fatty and glandular tissue the skin may recoil and may not need to be removed, particularly if you have good quality skin, as is the case in young patients who do not smoke.
However, in cases of significant skin excess the skin may need to be removed in order to give an acceptable chest contour.
Not only does this create extra scarring, but it is a bigger operation with more potential for wound healing problems, and so is more expensive.
The patient below had excision of the skin excess as well as removal of the gynaecomastia:
It is only really by examining you and talking you through all the options that we will know what will be the best option for you, which is why whenever we quote, we give the price for liposuction and excision which will suit the majority of patients.
Once you have been to the clinic and we have had the chance to meet and examine you and talk through your goals and wishes, then we can provide you with an accurate quote which will include our complete aftercare package, and the opportunity to come back to the clinic to go over things as often as you like.
And remember we have our satisfaction guarantee
…which means that if we have been unable to help you then we would be more than happy to refund the full consultation fee.
You can find out more on our gynaecomastia page, or you can download our guide , e-mail us or call us.

For further information please feel free to contact us or you can ask our director, Jonathan Staiano, a question LIVE on Facebook at 7 o'clock every Tuesday evening, so feel free to drop in.
REQUEST A PRICE FOR GYNAECOMASTIA CORRECTION
https://www.staianoplasticsurgery.co.uk/wp-content/uploads/2021/11/gynaccomastia.jpg
219
219
admin@staiano
https://www.staianoplasticsurgery.co.uk/wp-content/uploads/2021/07/logo.png
admin@staiano
2018-02-27 14:57:44
2023-03-14 14:22:57
Why Does Gynaecomastia Surgery Cost So Much?